Why Do We Have An Engineering Team?
Jun 28, 2017, 15:47 PM by Amy Choi
After the site assessment, the MPOWER Certified Installer inputs the following data they have collected on your home into our Engineering Portal:
1) the Load Assessment - see last week's blog for more details
2) your past year's utility bills - we need to understand your peak and off-peak electricity consumption
3) SLD (Single Line Diagram) - is created that maps out how all the electrical equipment will be installed.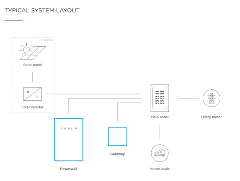 It will show how Powerwall will be integrated into your home and how it will meet all the electrical and safety code requirements (CSA and utility) in the region you live. This is the proposed MPOWER Solution.
A little note about the CSA and your utility. CSA (Canadian Standards Association) is the body that regulates how all electrical equipment are connected across Canada. You normally see a CSA stamp on your electrical equipment to show that it has been approved for safe usage. Utilities have their own individual safety regulations to ensure homes in their territory are connected safely.
Before the MPOWER Certified Installer can start installing, all this data goes to our Engineering Team.
Why An Engineering Team?
We currently have three Electrical Engineers running the test lab.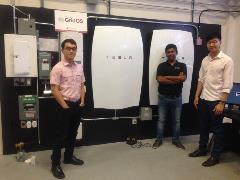 Our lab has two Powerwall 1's and a Powerpack. In the next few days we will have a Powerwall 2 installed!

Powerpack is Tesla's commercial-sized battery storage. Ours is 95 kWh and be connected to an Ontario utility's system for system testing and how to offset peak power demands on a larger scale.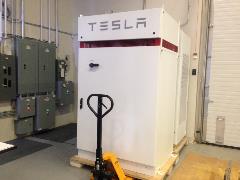 Our lab is run by one of our parent companies, Opus One Solutions. They build software to connect electricity networks.

The Opus One software is called GridOS. This software manages what is known as the smart grid. A smart grid is an electrical grid with controllable assets that can change the flow of electricity from generation - energy producer such as a hydro dam, to load - your home. The intention is to optimize and plan the distribution of these energy resources.

MPOWER and Opus One work together to install Powerwall first in our labs. This allows us to understand how Powerwall works and how to customize the solution to work best for Canadian homes. All of our homes are different and our energy usage as well. We need to ensure we can maximize what Powerwall 2 can do for all Canadian homes.

Our Engineering Team reviews the data provided by our Certified Installers. They double check to ensure there are no concerns with how everything will work together. A Professional Engineer will stamp off every solution before it gets installed.
Quotation
When the Engineering Team approves the MPOWER Solution, the Certified Installer will create the quotation with all the costs to install.