First Residential Tesla Powerwall 2 Install - Muskoka!
"Kind of like Christmas when I was six years old :)" Is how Canada's first residential Powerwall owner feels.
Greenside Electric-Solar is a MPOWER Certified Installer and they installed the first residential Powerwall 2 in Canada on July 21, 2017.
HIGH LEVEL SPECIFICATIONS
CUSTOMER PROFILE: Cottage north of Toronto. Owner is keen on benefiting from net metering savings with Hydro One and backup when there are grid failures.
# POWERWALLS: One AC Powerwall 2 (13.5 kWh)
SOLAR: Existing DC-rated solar system of 10.6 kW installed 2016 and integrated with Powerwall to save excess the solar generated for self-consumption.
USE CASES: Backup and net metering to save on high electricity distribution costs in cottage country.
SYSTEM DESIGN: Due to where the main electrical panel was located on this property, the subpanel for the backup electrical loads was installed near the main electrical panel and Powerwall was installed in the garage along with the solar inverter.
The "Guts" of the system, where all the hardwork happened with Max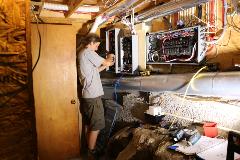 And the "Glory", what everyone wants to see.